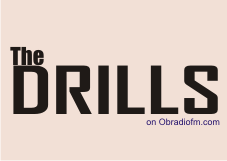 MORNING DRILLS – 11:30 GMT + 1 Daily on the radio station obradio FM @ obradiofm.com.
Every Monday, Wednesday and Friday 6:00 GMT + 1 on FTV showing live on Silverbird Television.
The Morning Drills is a three day physiological movement, using free/body weight or household improvised material to workout the different anatomies in order to keep a healthy lifestyle and cut down excess calories. Look no further because FTV is here to make you work out every morning, using improvised household materials with the MORNING DRILLS. Now you have no excuses, you can keep fit with FTV's Soye Elekima three mornings every week on Silverbird Television (STV) here in Port Harcourt, and/or subscribe on our Youtube channel if your are not in Rivers State. Remember, once there is a will, there is always a way, and FTV's Morning Drills is the way! And it is showing on STV.
MORNING DRILLS WITH SANGANA MARKET
MORNING DRILLS WITH ELTONS CHRISTIAN SCHOOL
MORNING DRILLS BUTT WORKOUT FEATURING JESICA
MORNING DRILLS WITH STUDENTS
MORNING DRILLS WITH SHEGUN OWOLABI IG
MORNING DRILLS WITH DAVID DAVIES
MORNING DRILLS WITH STUNT ON FTV
MORNING DRILLS WITH FOSTER BEE
MORNING DRILLS WITH NEITH NATION
MORNING DRILLS – BACK EXERCISES
MORNING DRILLS – LEG EXERCISES
MORNING DRILLS WITH SANDRA TENGI
MORNING DRILLS CARDIO SESSION
MORNING DRILLS SHOULDER EXERCISES